Acorn BMS and eight other local companies have teamed up to help address the shortage in IT skills across Northern Ireland through Career Encode.
The innovative scheme entitled "Career Encode" aims to attract young people to choose an 'Earn As You Learn' Higher Level Apprenticeship in Computing through the Northern Regional College. The opportunity is open to 2019 school leavers, or to those considering a career change into ICT. Participants will attend the Northern Regional College one day per week during term time and will be employed full time the remaining four days. The nine local companies who are participating in the scheme – Acorn BMS, Bloc Blinds, CDE Global, FP McCann, Mallon Technology, Randox, SDC, Spatialest and Specialist Joinery Group.
So how does it work?
You will be part of the computing team as a full employee, contributing to the success of your company. You'll be assigned a mentor to help and guide you, and to make sure that you achieve your full potential.  During term-time, you will spend one day per week studying for your Foundation Degree at Northern Regional College. After three years, you'll have achieved your Foundation Degree qualification and, subject to your performance, be ready to progress on the career ladder with your company.
Applying for Career Encode:
Complete your application for a Foundation Degree in Computing with Northern Regional College here. (Deadline for applications: Feb 28th, 2019)
Your grades will be checked to make sure that you meet the minimum entry requirements for the course.
Northern Regional College will contact you to find out which employer's interest you so that you can meet them.
You will then arrange with your potential employer(s) to attend interviews. If you are successful, an employer may offer you a job subject to condition.
If you're leaving school this year, your Higher Level Apprenticeship with the employer, and place on the course, will be confirmed subject to you achieving your predicted grades in August.
You'll start work with your employer on September 2nd, 2019 and you'll start your Foundation Degree at Northern Regional College on September 16th, 2019.
For more information, please visit the websites of Career Encode and Northern Regional College.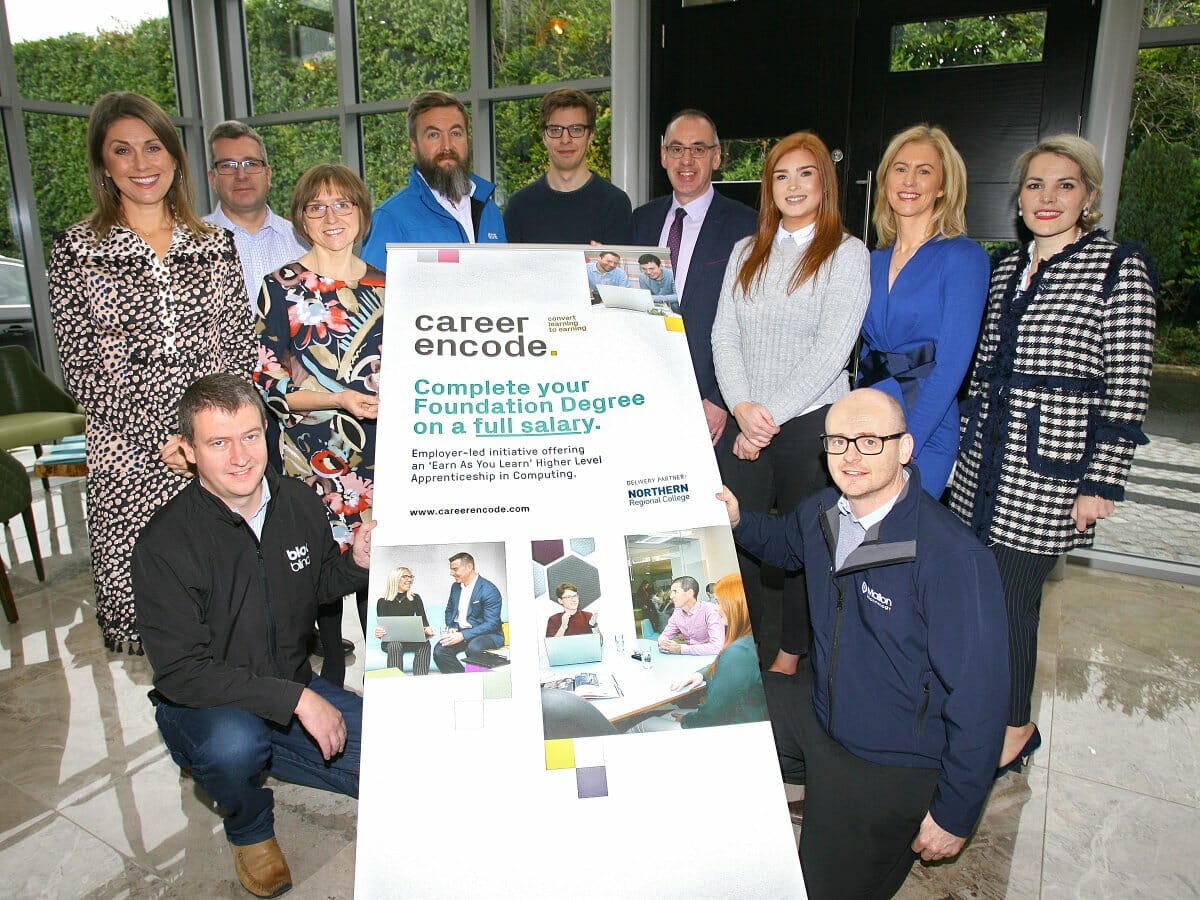 Career Encode Highlights:
Gain an internationally recognised Foundation Degree qualification accredited by Ulster University.

You'll earn a full salary.

Avoid debt – no university fees.

Learn on the job with experienced professional mentors in your chosen company.

Gain invaluable work experience that helps you to stand out.

Achieve a Foundation Degree that is a stepping stone to a BSc Degree in Computing.