Acorn BMS are a leading provider of Sage Software solutions within Ireland and the UK. Acorn BMS have been recognised as being not only the Sage 200cloud Partner of the Year but also the Overall Partner of the Year for 2019.  Having grown organically over the past 18 years, we have developed a trusted reputation in the implementation of Sage solutions.
We currently have an excellent opportunity for a candidate with drive and enthusiasm to join the current team and ensure that Acorn BMS continue to be the leading provider of Sage 200 and Business Solutions.
Job Description:
The Role of the job is to ensure that Acorn BMS continue being a market leader of Software Solutions in UK and Ireland. Focussing on both Sage Software Solutions along with our range of In-house Bespoke modules to compliment proposed offerings. The successful applicant will be expected to embrace the ethos of the company and become a key member of staff in terms of strategic positioning and identifying opportunities for future growth.
The role will involve actively growing Acorn BMS market share in both UK and Ireland over the coming 12 – 18 months. It would be hoped that the successful applicant will provide a strong view and vision of how the company can achieve growth over the coming period and be instrumental in implementing those strategies, based on previous experiences.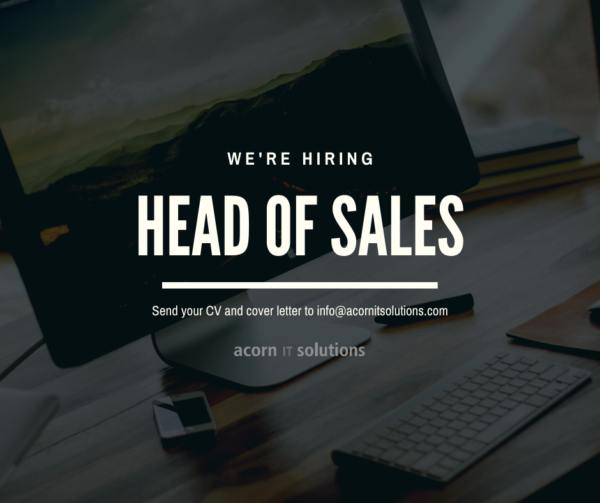 Key responsibilities:
Seek out new business opportunities in line with offerings available within Acorn IT
Deliver consistently against all targets.
Build, manage & maintain a substantial pipeline of qualified opportunities to assist in meeting set targets
Work on own initiative to keep the Sales Process flowing.
Ensure that all pipeline activity is accurately recorded and updated within CRM.
Ensure all customers receive a professional handover from Business Development to Account Management at the appropriate time. Also manage the process internally.
Demonstrate Acorn IT's product & services suite clearly & differentiate our offering within the market.
Take the lead in general marketing activities
Have a good understanding of the products so that you can carry out top level demonstrations to prospects.
Get involved in any new applications introduced, to be able to advise on potential growth areas.
Essential Skills:

The ability to listen and work well with both other staff and most importantly customers.
A proven track record in Sales, preferably software solutions.
A willingness to roll up the sleeves and get involved in different tasks. The ability to delegate tasks is not a requirement.
An attractive remuneration package will be available for the selected candidate.  If you feel that you have the drive and enthusiasm for the role of Head of Sales with us, please send your CV to info@acornitsolutions.com , and also include a Cover Letter telling us why you are right for this position.
Closing date: 5pm on Friday 25th September 2020